Schedule your pickup
Our drivers will text you when they are on the way for both pickups and deliveries – and there's no need to be home unless you prefer to be!
Your Neighborhood's Laundry Day

We are able to offer you such tremendous value due to our efficient pickup and delivery routes. Each of our delivery areas have a specific pickup and delivery day, just like your weekly Recycling pickup. This not only makes our routes efficient, but allows us to pass value back to you and makes your life easier by simply creating a habit.
FREQUENTLY ASKED QUESTIONS
You have questions, we have answers.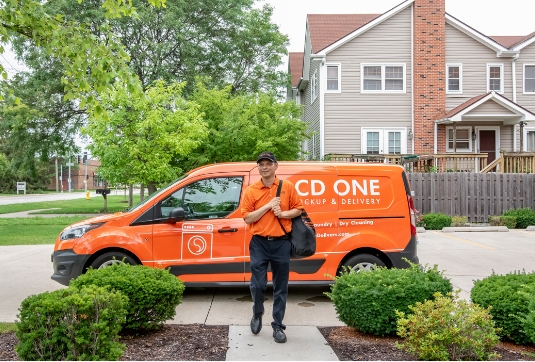 Do I need to be home?
Absolutely not! In fact, we don't expect you to be home. But if you prefer, you can certainly hand-off to the driver.
Where do I leave my clothes?
Anywhere the driver can access it. If you live in a building, this includes lobbies, package or mail rooms, management offices, or with a doorman. You can even leave special pickup and delivery notes for us.
When will I receive my reusable bags?
You'll receive your reusable bags with your first delivery. For your first order, place in any disposable bag labeled with your name and "wash and fold" or "dry cleaning".
More FAQs